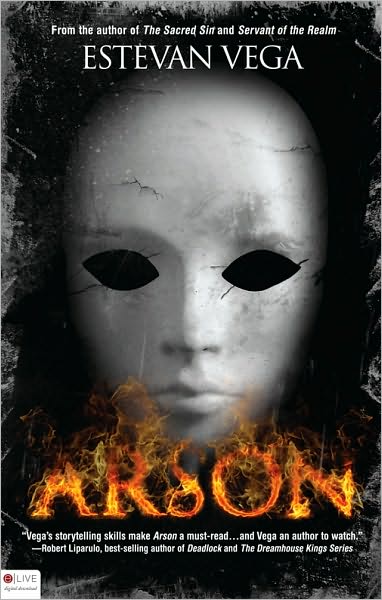 Perfect Paperback:
336 pages
Publisher:
Tate Publishing (May 4, 2010)
Language:
English
ISBN-10:
1615666036
ISBN-13:
978-1615666034
Genre:
Fiction / Coming of Age
Age:
Pre-Teen + (in my opinion)

Blurb:

Arson
by Estevan Vega
"Arson Gable feels like a freak. He can create fire. He never asked for it. He never wanted it. But he can't shut it off.
Before now, three things were true: he both loved and despised his grandmother; his life was going nowhere; and he was alone. But when a strange girl—who feels more normal behind a mask than inside her own skin—moves in next door, Arson hopes to find something he's never had: purpose. Using what he fears most about himself, Arson must face his consuming past and confront the nightmare that is his present as he walks the fine line between boy and monster. Dark, moody, and breathtakingly relevant, Arson, the chilling chronicle of an isolated boy with unimaginable ability, is sure to ignite the hearts and minds of a new generation."
The above was taken from Amazon.Com
Link:
http://www.amazon.com/Arson-Estevan-Vega/dp/1615666036/ref=sr_1_1?s=books&ie=UTF8&qid=1282139323&sr=1-1
I had wanted to read this book from the first time I had heard about it. To me it sounded like a book I could get into. When I started reading it a first I wasn't so sure because upon reading it I noticed that this book jumps from section to section which I had never encountered with a book before. BUT I was completely and utterly sucked into Arson's world. When I had the book in my hand I did not want to let it go. Arson Gable is not like other boys because he can decimate anyone with his temper. Arson can cause intense heat to radiate from his body and shoot from his fingers or any part of his body actually. Arson lives with his grandmother Kay who omg is bi-polar or something because she goes from zero to crazy in about two point two seconds. One minute she is like Arson you know I love you then the next second she is telling him he is the spawn of satan and wacking him across the face and cutting him open with the diamond from her ring. Then the new neighbors the Phoenix's enter Arson's orbit. They have a daughter Emery who wears a somewhat creepy mask. Arson and Emery seem like a mix-matched pair when in actuality they are the perfect couple who can help each other get over their own personal demons. This book kinda reminded me of Stephen King's book Firestarter but in a good way. With Firestarter it was about a little girl and she only had the abilities because her parents were experimented on but with Arson he was just born that way and not to mention we meet him as a teenager. This book is kinda like one big huge epiphany that we all have at some point in our lives. Everyone comes to the realization that something they wanted for so long isn't exactly what they really wanted. Case in point Arson is reduced to a mere puddle every time this girl Mandy is in his sights but when he finally has his shot with Mandy it is not her he is thinking about or wanting to be with it is actually Emery the girl next door. I am SO NOT doing this book justice. When I finished this book I was so needing to know that there would be a follow up book to continue were this book had left off which was in a state of OMG WTF. I was just feening for more of Arson and Emery's story and what was gonna happen now that this or that happened. I don't want to go into too much because I so do not want to give away the ending but OMG. This is definitely a root for the underdog with dark and mysterious under tones and not a fluffy bunny story were boy meets girl and they fall in love and everything is hunky dorey. This is a stand up for yourself and don't let anyone tear you down no matter how different you think you may be kind of a story. On a scale of 1-10 I give this book a 9 just because it took me a few to get used to the way the story flowed but THIS BOOK WAS SO WORTH READING in my opinion. I truly LOVED it. If you are looking for a book that you just can't put down then ARSON by Estevan Vega is the book for you.
Link: