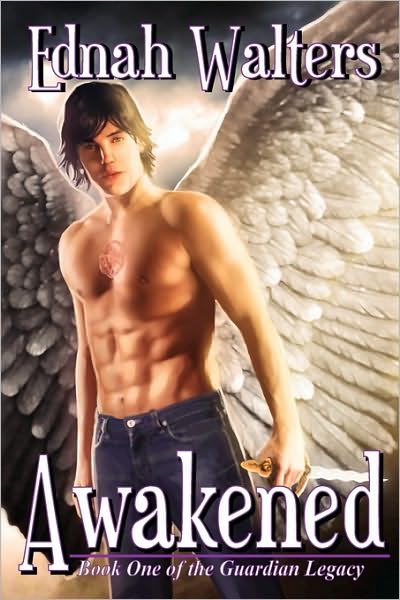 Awakened (The Guardian Legacy Book 1)
By Ednah Walters
Reading level:
Ages 9-12

Paperback:
272 pages

Publisher:
Pill Hill Press (August 22, 2010)

Language:
English

ISBN-10:
1617060380

ISBN-13:
978-1617060380
Source:
Amazon.com (link to purchase
HERE
)
Purchase:
Barnes And Noble (link to purchase
HERE
)
Blurb:

Most teens turn sixteen and get the license to drive, but Lil Falcon gets the license to kill demons. Orphaned as a child and raised by an eccentric grandfather, Lil is concerned with surviving high school and is unaware that she's a Guardian-a being with super powers charged with killing demons and protecting humanity. When she meets Bran, a mysterious boy with amazing abilities, his psi energy unlocks her latent powers. But Bran has a secret that can ruin their growing relationship, and the truth she discovers may destroy everything she believes in unless she finds the right balance between love and sacrifice.
This is so not your ordinary run of the mill novel about "angel's". First off let me say I loved the fact that at the beginning of the book you get some definitions of terms used throughout the book. It was so nice to have that for a reference when the terms came up in the story instead of me scratching my head and wondering what they meant. I loved Lil and Bran as the man characters in this book. Lil had just the right amount of strength and vulnerability that a good character needs. Bran had a wonderful air of mystery and danger that attracts all girls like a month to a flame. I felt they balanced each other without over powering the secondary characters and the over all story. Sykes, Remy, Izzy, and Kim are some of the cast of characters that Lil befriends upon finding out about her powers and the C12 Dojo. This book had many great and wonderful characters each with their own amazing abilities and some not so good abilities. This book had an awesome twist on the old angel verses demons fight for supremacy. Ednah brings something different to the table when it comes to her Nephilim's. When an author can keep me hooked on a story about angels and demons I call that a talent. Having grown up a Roman Catholic I know all about heaven and hell and all the other stuff in between and believe me I had a hard time keeping my focus when it came to theology. Not only did Ednah's words keep me transfixed on her book but by the time all was said and done I have been clamoring for more. I truly believe this will be a series I will reread over and over. On a scale of 1-10 I give this book a 10 and feel everyone should read this story and fall in love with Lil and Bran's story. Betrayed (The Guardian Legacy 2) can't come out fast enough for me.

Link: