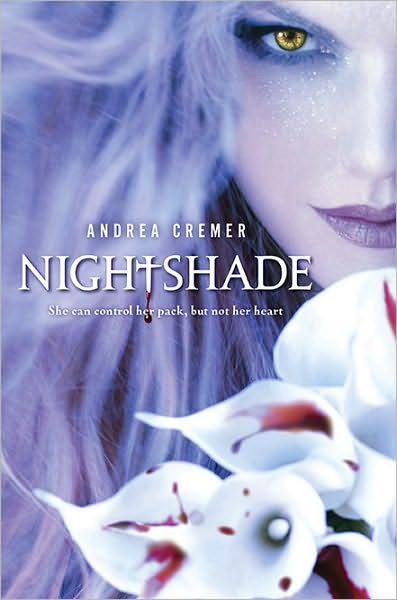 Nightshade ARC (Advanced Reader Copy)
by Andrea Cremer
Reading level:
Young Adult
Hardcover:
528 pages

Publisher:
Philomel (October 19, 2010)

Language:
English

ISBN-10:
039925482X

ISBN-13:
978-0399254826
Source:
Amazon (link to purchase
HERE
)
Purchase:
Barnes And Noble (link to purchase
HERE
)

Blurb:

Calla Tor has always known her destiny: After graduating from the Mountain School, she'll be the mate of sexy alpha wolf Ren Laroche and fight with him, side by side, ruling their pack and guarding sacred sites for the Keepers. But when she violates her masters' laws by saving a beautiful human boy out for a hike, Calla begins to question her fate, her existence, and the very essence of the world she has known. By following her heart, she might lose everything— including her own life. Is forbidden love worth the ultimate sacrifice?
Nightshade is Andrea Cremer's debut novel. I can't tell you the amount of luck I have had this year reading debut novels. This ARC was so worth all the things I had to do to get my hands on it. The story of Calla and Shay had me captivated. This may seem strange to some but I took my time reading this book because I wanted to savor each moment between our main characters Calla and Shay. Shay is a transfer student whom meets Calla accidentally. Calla is an alpha wolf while Shay is just your ordinary run of the mill human, or is he. This Arc starts with Calla doing the unthinkable, which in turn sets the stage for the rest of the story. Calla being an alpha wolf of the Nightshade pack is expected to obey her masters and do her duty. Renier, better known as Ren, is also an alpha wolf but of the Bane pack. His pack and Calla's park are expected to be united at their union. Making one great pack of younger wolves sworn to protect the Keepers. I don't want to give too much away but lets just say nothing goes according to plan. This ARC is more than just a love triangle it is a thrill ride that will keep you guessing all the way to the end. You may think you have it all figured out, but let me tell you, the obvious is not always true. Calla's true mate is up for debate. I know someone who is team Ren while I myself am Team Shay all the way. Why is Calla drawn to Shay? Why is Shay so determined to win Calla? I can tell you why, its for the simple fact that with Shay, Calla can be herself and not the person/wolf everyone expects her to be. As for Shay, Calla is the first person who has gotten to know him and brings him the companionship he has always longed for in my opinion. This ARC has it all secrets, lies, mysteries aplenty, teen angst, a love triangle, and a love that is unbreakable. This is actually the first time I have read a book before it has actually come out. Let me tell you it is fantastic and nerve wrecking all at the same time. I love that I got to experience this wonder tale but at the same time it just makes me realize how much longer I have to wait for book 2 and 3 to come out. *Nightshade is a trilogy. Wolfsbane (Nightshade #2) will be published in July 2011 and Bloodrose (

Nightshade

#3) in spring 2012. After that Andrea will be writing a prequel about the origins of the Witches War, which will be on bookstore shelves in fall 2012. I don't know how I am going to be able to wait that long to find out what happens with Calla, Shay, Ren, and all the others. This has got to be one of the best books I have read all year. This ranks right up there with Shadow Hills By Anastasia Hopcus and Shiver By Maggie Stiefvater. On a scale of 1 to 10 I give this book a resounding 20 (standing ovation included). If you live on the planet Earth
YOU NEED to pick up a copy of Nightshade when it hits shelves OCTOBER 19,2010. Andrea is truly a gifted story teller with a unique tale all her own. Discover why I think Andrea is a phenomenal writer who weaves a masterful story you just have to read for yourself.

Link: