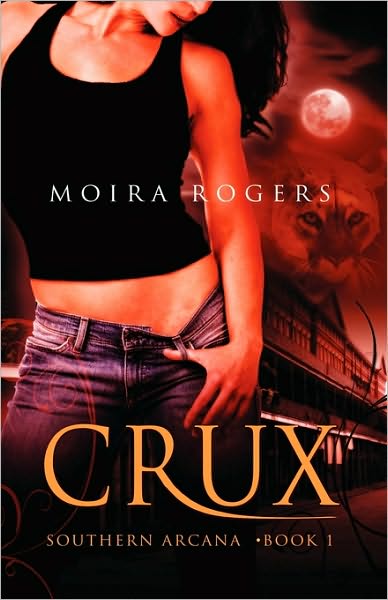 Crux (Southern Arcana Series Book #1)
By Moira Rogers
Pub. Date:

January 2010

Publisher:

Samhain Publishing, Limited

Format:

Paperback , 256pp

Sales Rank:

109,364
Blurb:
Jackson Holt makes a decent living as a private investigator in New Orleans, home of one of the largest underground supernatural populations in the United States. He and his partners have never met a case they couldn't crack…until a local bar owner asks him to do a little digging on her newest hire.
New Orleans is the fourth destination in as many months for Mackenzie Brooks, a woman on the run from a deranged stalker. After all, any man who shows up on her doorstep claiming to be her destined lover has more than a few screws loose. But crazy doesn't explain why he always finds her no matter how far she runs.
When her well-meaning boss puts a PI on her case, Mackenzie comes face to face with the incredible truth: magic is real, and whatever spell has kept her hidden and separate from the paranormal world is rapidly deteriorating.
With time running out, she has no choice but to trust Jackson as he struggles to uncover the truth of her past—and her destiny.
I totally loved reading this story. I found Moira's book very hard to put down. Mackenzie (Kenzie) Brooks and Jackson Holt are two very fascinating characters. I was instantly drawn to Kenzie's plight and feared for her like she was someone I knew and cared about. Jackson is a drool worthy character with charm as well as a caring heart even though he tries not to show it. Bar owner Nicole (Nick) is someone you would want on your side. She just hires Kenzie and immediately she wants to help her out and make sure she is staying at a safe place/neighborhood (even before all hell breaks loose). Alex Jackson's partner in their private investigating business doesn't have a lot to say but when he does you listen because he knows what he is talking about. Ever character in this book have a function and is not some random name just thrown in there to make the story seem full (if that makes sense). I haven't read many shapeshifter books but if they are done the way Moira writes them I will be reading a whole lot more of them. She also has really good creative use of some really great paranormal characters in this book that I think everyone will enjoy. Let us not forget the sexy times between Kenzie and Jackson. Although their frustration at times of not having it are just as great as them getting it. I don't want to give anything away but there is a scene where kenzie and jackson are driving in a car and at one point Jackson ends up banging his head on the steering wheel in frustration. Trust me you are gonna want to read that scene for yourself to understand why that was actually one of my favorite scenes in the book. I was riveted to this book from beginning to end. I highly recommend that everyone 18+ should read this book. In my opinion there is something for everyone (well except maybe hard core Vampire fans....lol). On a scale from 1-10 I actually give this book a 20 because Moira just has such a flare for story telling and this series has now become one that I will read over again that's how much I enjoyed it. If you have not read any of Moira's books I think now is the time to start and why not start with Crux. The rest of the Southern Arcana Series Crossroads book #2, Deadlock book #3 (Available January 4,2011), and Cipher book #4 (Available September 2011).
Link: