This is a Meme, created by me, to highlight a book every Friday that I have read in the past up to December 31,2009.

Today's Flashback Friday Feature is King Of The Unblessed By Michelle M. Pillow. This was my first book by Michelle and I LOVED it.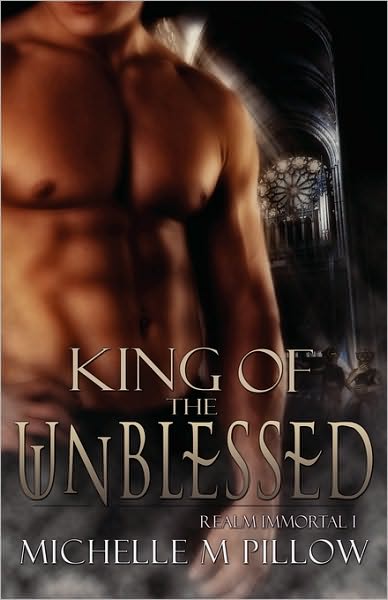 King Of The Unblessed (Realm Immortal Series Book #1)
By Michelle M. Pillow
Pub. Date:

January 2010

Publisher:

Samhain Publishing, Limited

Format:

Paperback , 240pp

Sales Rank:

512,012
Blurb:
Merrick, dark elfin King of Valdis, had once been heir to all that was good—happiness and pleasure his domain. Now, trapped as the ruler of mischief, king of necessary evil, he stands on a precipice of choice. On one side, his estranged brother, now ruler of what should have been Merrick's and, on the other, King Lucien of the Damned. Both would sway him. Damnation is winning.
Lady Juliana of Bellemare is from a human family, protected by the Blessed, coveted by the Damned. Betrothed to an old friend of her father's, Juliana is living out her days close to her childhood home, longing for an adventure. When her fiancé is murdered and the children of Bellemare are stolen, Juliana is sent on a quest in a strange realm where appearances are deceiving.
Merrick brings more adventure and passion than any woman could want. Can she withstand the temptations? The spell she weaves over him is more than he can resist, Merrick offers her a choice; either come with him until he tires of her…or die.
King Of The Unblessed was such a great story. I literally could not put this book down. As soon as I finished it I went on line and bought Faery Queen book #2 and Stone Queen #3 in the trilogy. It was really that good. There was just something about Merrick and Juliana's story that was just so amazing. Juliana longs for some sort of adventure in her life and Merrick is just existing in his life with no direction and no hope. When these two people get together all that changes. Juliana brings love and warmth back to Merrick's life. Merrick gives Juliana the greatest adventure of her life while showing her how she taught him to love. What woman doesn't love a man with a tortured soul that they feel they can help fix. Did I mention that Merrick is smoking HOT and all I can say is yummy with a spoon. This is definitely a re-read kind of book in my opinion. Everyone 18+ should really check this book out and see for themselves. Then when your done check out books 2 and 3. This trilogy is so worth it.
If you want to join me in my Flashback Friday just make a post and link it here through my Linky Tools.
Link: