Welcome to day 4 of our Halloween Booktacular Event. My blog along with
Good Choice Reading Blog
,
Books With Bite Blog
,
Once Upon A Twilight Blog
,
An Avid Readers Musings Blog
,
AliseOnLife Blog
, and
Dark Readers Blog
have been having some AMAZING authors stop by our blogs and giving away books. Stopping by today I have the extremely talented writer Margeaux Laurent. Margeaux wrote such an incredible story titled Spellbound: The Awakening Of Aislin Collins (Spellbound Series Book #1) which she will be giving away a paperback copy of today. You can read my review
Here
. Giveaway is open to U.S. only and the book will be sent by the author. To enter leave a comment with your e-mail address. Trust me when I say this is a must read for anyone who is interested in witches and/or witch craft and learning some history behind witch and slave persecution. Margeaux has stopped by today to tell us all about a haunting memory she had. Sit back, relax, and lets start this haunting story....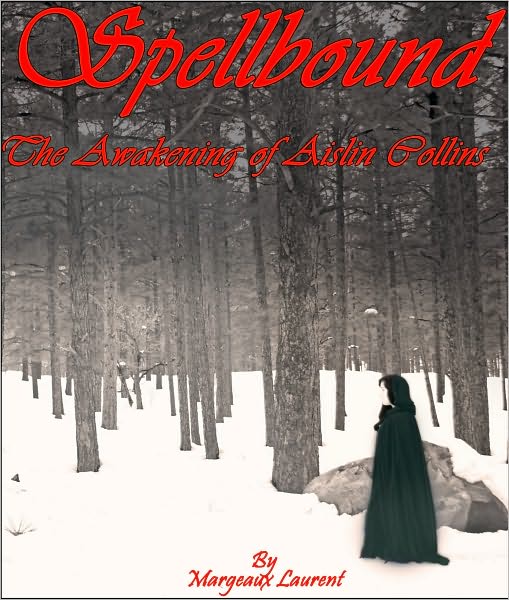 Spellbound: The Awakening Of Aislin Collins (Spellbound Series Book #1)
By Margeaux Laurent
Paperback:

304 pages

Publisher:

iUniverse.com (March 14, 2011)

Language:

English

ISBN-10:

1450296203

ISBN-13:

978-1450296205
Blurb:
"I have many secrets, but the one I must hide at all costs is the one that keeps threatening to surface. I turned from the woman's screams as the flames licked at her feet. I started to run, but I was stopped by a booming voice, "Witch!" the man roared as he pointed at . . . ME? I was terror-struck, completely powerless against the witch hunter."
The witch hunter's eyes locked onto mine and time suspended. In that moment, my life was forever changed. As an evil force overtook me, I was carried away, protected by a mysterious stranger who disappeared as quickly as he arrived. Now, the witch hunter haunts my every step, and my protector appears in my every dream. I am undeniably in love, but mother is suspicious. Rumors have spread through town. Something evil has settled here. It lurks in the woods, cloaked by dark magic. Animals have been found mutilated, and men patrol the forest to hunt this unknown malice. They will not find the creature, it is not interested in them. It is after me. I am a witch, and the creature is the servant of the witch hunter. I am their prey.
A Haunting Memory
Margeaux Laurent
I have many wonderful Halloween memories, yet one of the spookiest memories
that stays with me to this day did not happen during Halloween, but three days before
Christmas.
When I was nine years old, my mother and I decided to spend the holiday in historic
Williamsburg, Virginia. We drove in from New Jersey, and arrived around one o'clock in the
morning. It was a bitterly cold December night and the wind was so strong that it chilled to
the bone.
We first went to the main hotel, where they gave my mother a key to the historic
home that we would be residing in for the week. I remember waiting by one of the grand
fireplaces in the main lobby of the hotel while my mother was checking in. I was holding my
frozen hands over the grate of the fireplace and feeling the heat of the flames. Begrudgingly,
I followed my mother back to the car and we set out to in search of our lodging.
The ride didn't take long, but once again, I found myself shivering as we lugged our
many suitcases into the adorable little house. Much of the house, I do not remember, only
that it was a small Colonial cottage, with a little yard and a white picket fence. We walked
through the main door that led directly into the bedroom. The interior was beautiful,
decorated with a large four-poster bed that was covered in beige linens with soft red floral
accents that gave the room a welcoming air. I happily crawled under the covers while my
mother tried to unpack, and I began to fall asleep. It was a rude awakening when she shook
me hard and told me that we had to leave the house, the heating wasn't working and she
couldn't get the room to warm up.
I remember stumbling to the car in my pajamas and waiting with the heat on as my
mother dragged herself back to the main hotel and arranged for us to move into another
house. Within minutes, she came back out, once again we drove down the quiet streets, and
finally, we parked along the side of a two story, white Colonial home. It had a long white
picket fence that ran along the side of the house and a small gate that we pressed through in
order to reach the home. With the snow softly falling around us, my mother took in the
scene, mentioning how she thought that this moment would make a lovely picture if only
her camera wasn't buried in one of our suitcases. I looked up at the house and cringed. For
some reason, as I looked at it I began to feel threatened. As desperate as I was to get into a
warm bed, I didn't want to go any further.
My mother ignored my complaints and unlocked the door to the home. Directly in
front of us stood a narrow staircase, sandwiched between two white walls, which led to the
room where we would be staying. I looked up the narrow staircase and felt as though
someone was staring back down at me. I didn't see anything that would give me alarm, but
yet I felt threatened. I stepped backwards towards the front door and I felt my mother's
hand press into my back as she pushed me forward to get me up the stairs and into bed.
Upstairs, I was surprised to find an absolutely charming room. A large queen sized
bed covered in soft cream colored linens was on the wall opposite the entrance, and there
was a bathroom directly across from it. On the far end of the room there was a raised area
where a television and two chairs were placed by a small window.
My mother tucked me into bed and explained that she had brought one suitcase up,
but was too tired get the rest of the luggage from our car. She quickly unpacked her small
suitcase, changed into her nightclothes and got into the room's only bed where she quickly
fell asleep.
I lay on my back, eyes open, staring at the ceiling. It was an old home and prone to
noises. I heard each creak and pop of the house settling with a heightened sense of fear.
Finally, around four in the morning, I gave up trying to sleep and moved to the television
area, where I sat in one of the lounge chairs and flipped through the channels. I wasn't
interested in watching television, but I was afraid to fall asleep.
Meanwhile, I heard movement all over out little room. The water turned on and off
in the bathroom, the sound of soft footsteps seemed to pace back and forth, floorboards
creaked, murmured voices teased my mind. I thought that it might have been the people
who were staying downstairs and I tried to calm down. I remember continually glancing over
at my mother where she slept. She kept shifting until finally she sat up in bed and screamed,
"Margeaux, stop kicking me!"
"Mom, I'm not in bed!" I said, in an alarmed voice.
She rubbed her eyes and looked over at me in shock. I was sitting on the far end of
the room, nowhere near her. She demanded that I come to bed and turn the television off,
and with great reluctance, I did. With the television on, I could blame any out of place noise
on it…but with the television off, I could hear every single sound in the room as though it
was amplified.
My mother slept through the rest of the night, and we spent a lovely day in historical
sections of the town. We shopped, watched a few live reenactments, and had dinner at
George Washington's favorite tavern. The day was bright and cheery, but as soon as we
crossed through the gate that led to the home, my stomach tightened and I was again on
edge.
The scenario started out the same as the night before, but this night, my mother
would not be able to escape the spirit in our room through her exhaustion.
After she took her nightly shower, she noticed a large bruise on her outer right thigh.
"I told you that you kicked me," she complained, as she lifted her robe and pointed to her
dark blue mark.
I tried to explain that I hadn't, but she didn't seem to believe me. We both climbed
into bed and she turned off the light. Now, I was the one who was exhausted and could no
longer fight the urge to fall asleep. My dreams were filled with nightmares, of my mother
crying and pleading, and of chaos all around us. Although I can no longer remember the
details of the dream, I do remember the feeling that accompanied them…terror. Around
two in the morning I heard my mother rustling around the room and I felt a cold compress
being placed on my forehead. I stirred and she asked me to sit up as she poured a children's
pain killer into a dosage cup. When I sat up, I shivered, and realized that I had been sweating
so much that my back was soaked.
"I'm sorry," she said as she placed the cup in my hand, "I should have believed you.
We'll leave as soon as the sun rises."
I blinked hard and looked at my mother. Her eyes were bloodshot and she was very
tense. As I took the medicine she spoke, "You were sleeping on the far end of the bed and I
felt something hit me again. I thought you had done it, but you were nowhere near me."
As she tucked me back in, she stood up, "I'll wake you in a little bit, but try to sleep."
The medicine knocked me out and I slept until I heard a crashing sound. I sat up in
bed to see light shining through the windows and my mother throwing our suitcases down
the stairs.
"You can change at the hotel," she said over her shoulder, "We need to leave now."
Her words and her tone frightened me so much that I rushed from the bed and ran
down the steps. We both dragged our luggage to the car and she sped to the hotel.
"I had terrible dreams last night" I said, as I rubbed my eyes.
"Of what?" she asked as we turned into the main hotel's parking lot.
I thought back and tried to remember, "I dreamt that you were begging for someone
to leave you alone…and that the television kept turning on and off." I said slowly.
She shook her head, but didn't look in my direction, "You didn't dream that." She
slammed on the brakes as we slid into a spot and she quickly got out of the car.
When we reached the checkout counter, a manager who my mother was familiar
with looked at us with great concern. "Are you two alright?" the young man asked with
alarm.
I could see my mother struggling to admit why we left the room and she just handed
him the key. As he looked down at it, his expression changed, "You weren't booked in that
home…" he said with confusion.
My mother explained that we had to switch from the room he had placed us in and
he nodded nervously.
"The night clerk didn't know any better," he said with caution
"Didn't know what?" my mother asked with narrowed eyes.
He looked uncomfortable and spoke in a quiet voice as a few employees walked by.
"I will put you in another house that I know isn't haun…" he stopped as a hotel guest
meandered through the lobby.
My mother shook her head, "No. We're going home."
We walked back to the car and began the long drive home. We had planned to stay
for a full week, but left after two nights. Although my mother raced to get us home as
quickly as possible, we could never put that night behind us. To this day, it reminds me that
there is more to nature than what we can see with our own eyes, and even though we cannot
see it, doesn't mean it can't see us.
website:
http://margeauxlaurent.com/
Facebook:
Here
Twitter:
Here
GoodReads:
Here
Participating Blogs:
Good Choice Reading:
Here
Books With Bite:
Here
Once Upon A Twilight:
Here
An Avid Readers Musings:
Here
AliseOnLife:
Here
Dark Readers:
Here