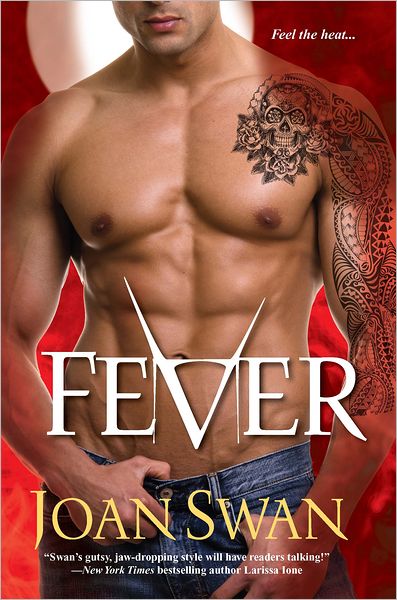 Fever (Phoenix Rising Series Book #1)
By Joan Swan
Paperback:
354 pages
Publisher:
Brava; Original edition (February 28, 2012)
Language:
English
ISBN-10:
0758266383
ISBN-13:
978-0758266385
Source:
Amazon.Com (link to purchase
HERE
)
Purchase:
Barnes And Noble (link to purchase
HERE
)
Age:
Adult 18+
*
*
I added the age restriction. The age restriction was not provided by Amazon.Com.
Blurb:
When Dr. Alyssa Foster is taken hostage by a prison inmate, she knows she's in deep trouble. Not just because Teague Creek is desperate for freedom. But because the moment his fingers brush against her skin, Alyssa feels a razor-sharp pang of need...A man with a life sentence has nothing to lose. At least Teague doesn't, until his escape plan develops a fatal flaw: Alyssa. On the run from both the law and deadly undercover operatives, he can only give her lies, but every heated kiss tells him the fire between them could be just as devastating as the flames that changed him forever.
Fever was my must have read for 2012. I have said this to Joan and I have tweeted and said this to everyone and believe me it lived up to my hype (in my opinion). Teague Creek was such a great character. He was a bad boy (seeing as he was in prison and all....lol) but I kept getting glimpses of his good heart/nature. Teague straddled the line between doing what he had to do to stay alive in prison and keeping to his true nature. Joan showed me that, with her male hero, you really had to look beyond his physical appearance to get to his true nature. Now with Alyssa, I got to see a work driven woman whose career means everything to her. She struggled to climb the work ladder to be the best in her field. Putting Teague in Alyssa's path gave me a new side to her character. I got to see her actually throw caution to the wind and let the chips fall were they lay.
Dr. Alyssa Foster never planned to be taken hostage by prison inmate Teague Crrek but since that is exactly what happened I got to go on one heck of an action packed ride towards redemption and true love. All Alyssa can think about is trying to escape and get back to practicing medicine but all Teague is doing is trying to prove his innocence by any means necessary. Ever since Teague was caught in a warehouse fire his life has been turned upside down. Now he is desperate to clear his name and reclaim his life. While on the run he realizes there is more than one person he wants to build a better life for but he doesn't quite know how to go about it. Alyssa realizes that her career is not the only thing there is in life. She learns that falling in love can be more satisfying than an all consuming job.
I really loved the interaction between Alyssa and Teague. I kept hoping he would realize what her and he had was worth fighting for. This book had everything I could hope for and more. There was TONS of action, as well as, a heart tugging love story. Joan has a hit on her hands with Fever, and if Blaze (Phoenix Rising Series Book #2) is anything like this one then she will have a FANTASTIC series that everyone must read. On a scale from 1-10 I give Fever a HUGE 10. I think everyone adult 18+ should run out and pick up this book. Let Teague and Alyssa's story consume you and leave you breathless.
Link:
http://joanswan.com/
Blog:
Here
Facebook:
Here
Facebook Author Page:
Here
Twitter:
Here
Twitter:
@romancegiveaway
GoodReads:
Here
Pinterest:
Here