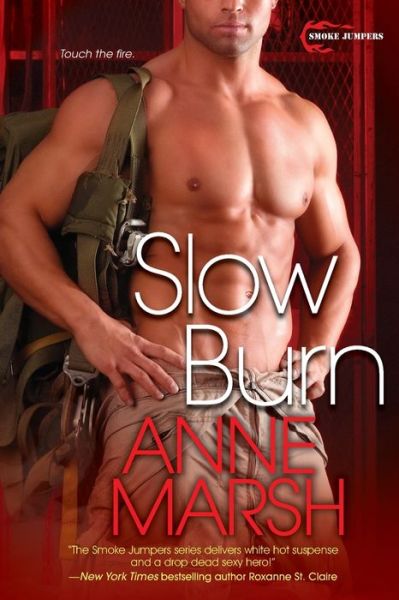 Slow Burn (Smoke Jumpers Series Book #2)
By Anne Marsh
Paperback:

320 pages

Publisher:

Brava (March 26, 2013)

Language:

English

ISBN-10:

0758287860

ISBN-13:

978-0758287861

Source:

Amazon.Com (link to purchase

HERE

)

Purchase:

Barnes And Noble (link to purchase

HERE

)

Age:

Adult 18+

*
*
I added the age restriction. The age restriction was not provided by Amazon.Com.
Blurb:
The second in Anne Marsh's pulse-pounding Smoke Jumpers series ripples with nail-biting suspense and sensuality, giving an inside look at a special brand of hero and the kind of woman it takes to win him.
It's not every man who'll risk his life jumping into the flames of a woodland inferno. Then again, Evan Donovan isn't like other men. No matter how great or how treacherous the challenge, he gets the job done. But when he agrees to look in on a friend's ex-wife after a suspicious brushfire, Evan learns that some jobs are too hot to handle...
Faye Duncan is a photographer on a mission, shooting fires for a magazine. Her first encounter with a wildfire isn't nearly as wild as her first night with Evan Donovan. Things really heat up when Evan learns she may have taken a photo of the arsonist setting the fires. Evan is determined to keep Faye safe - but first, he'll have to open up his heart...
This is my very first Anne Marsh book and I can tell you it so won't be my last. This book had me hooked from the very beginning and I so didn't want it to end. Even though this was book 2 of a series I didn't have any problem with the fact that I hadn't read Burning Up (Smoke Jumpers Series Book #1). You can quote me on the fact that I WILL be purchasing book 1, that is just how good I think Miss Marsh really is.
Faye Duncan has just come out of a three year marriage that was doomed from the start. She feels she needs a fresh start and some distance from her ex husband. Faye cashes in her 401K for a shiny red 1965 Corvette which will take her to Strong, California and her first magazine assignment.
Evan Donovan is a man of few words. He is loyal to his brothers and his smoke jumping team. Evan is the kind of guy you can always count on to get the job done but when it comes to ladies he is a bit lost for words. At this point in Evan's life he feels he has everything he needs, that is until his path crosses with Faye.
Upon meeting Faye, everything Evan once thought was the most important thing in his life, smoke jumping, his brothers, his mother Nonna, starts to blur around the edges for him. Faye brings new feelings to his life that he never knew he was missing, and he rather likes that. Faye on the other hand isn't looking for another relationship. She is looking for a grand adventure to go along with her first real magazine story. What they get is a red hot romance thrown in with a suspected arsonist who keeps lighting up Strong like a Christmas tree.
With an arsonist on the loose in Strong and possibly a Fire Fighter, Faye thinks she has her ticket to becoming a real photo journalist. Evan, ever the fair man, doesn't want to accuse someone and ruin their lives without hard core proof.
These are the situations in this story that kept me on the edge of my seat. The more Evan and Faye heated up the HOTTER Strong got in more ways than one. This book had everything. An honest to goodness hero, who did his job to keep people safe without regard for himself. A spunky girl who has let life slip by her for the last time, and a real low life who gets a kick out of starting fires and watching Strong's elite jump team put them out time and time again. On a scale from 1-10 I give Slow Burn a pulse pounding 10. It had all the elements a great story needs to keep my attention and keep me wanting for more. If you too are looking for a great story with sexy firemen, a mysterious arsonist, new beginnings, and just an all around great romance than you need to pick up a copy of Slow Burn. while you are out picking up your copy join me in picking up book 1 in the series Burning Up. Let Faye and Evan's love story leave you burning for more.
http://www.anne-marsh.com/