I, along with 51 other bloggers will have been/will be bringing you the Runes Blog Tour. I am having an AMAZING time with some pretty kool blogs. After you check out my review of Runes you should enter the giveaway below. Also make sure to check out all the blog stops on this tour. I just want to say thanks to our blog tour hosts
Walking On Bookshelves
,
Forbidden Passions Reviews
, and
PageFlipperz YA
for putting this all together.
Runes
by Ednah Walters
Publication date:
May 20th 2013
Genre:
YA Paranormal Romance
Blurb:
Seventeen-year-old Raine Cooper has enough on her plate dealing with her father's disappearance, her mother's erratic behavior and the possibility of her boyfriend relocating. The last thing she needs is Torin St. James—a mysterious new neighbor with a wicked smile and uncanny way of reading her.
Raine is drawn to Torin's dark sexiness against her better judgment, until he saves her life with weird marks and she realizes he is different. But by healing her, Torin changes something inside Raine. Now she can't stop thinking about him. Half the time, she's not sure whether to fall into his arms or run.
Scared, she sets out to find out what Torin is. But the closer she gets to the truth the more she uncovers something sinister about Torin. What Torin is goes back to an ancient mythology and Raine is somehow part of it. Not only is she and her friends in danger, she must choose a side, but the wrong choice will cost Raine her life.
I have been a BIG fan of Ednah Walters since the very first book in her Guardian Legacy Series. I thought it was amazing. I have also read her Fitzgerald Series written as E.B. Walters, although I loved it, I felt it could not top the first series of hers I read. BUT all that changed when I read Runes. It is such a PHENOMENAL book I just couldn't put it down but at the same time I was trying to prolong it because I didn't want it to end. For the first time EVER I didn't know what to do with myself when I finished this book. I was literally counting down the days til part 2 came out and wondering if I could last til then....lol.
Lorraine "Raine" Cooper seemingly has it all, a great best friend named Cora Jemison, an unofficial boyfriend named Eirik Seville (childhood friend who used to live next door), an eclectic mother, and a doting father (until he went missing). That is all about to change with the arrival of Torin St. James. An oh so dreamy bad boy type with electric blue eyes. With the summer winding down Raine is getting ready to rejoin the swim team with the rest of her friends until Torin changes the course of Raine's life forever.
Soon left with more questions then answers Raine sets out to learn who and what Torin is so she can get back to her life and her boyfriend whom she has always wanted, although, even that she isn't sure about anymore. With Torin always showing up and "helping" her and with weird new students who keep popping up all the time Raine starts to question her sanity, her fate, magic, and if she can really take Torin at his word and truly trust him to help save her life, her friends, and the lives of the swim team.
I am so trying not to say the wrong things and ruin this book for anyone. Trust me, in my opinion, this is one book you do not want ruined. To me, Runes is a MUST read for EVERYONE in 2013. Ednah has totally blown me away with her ability to suck me in and leave me wanting for more. Like I said before I have been a BIG fan of hers for a while but now if she wrote an auto repair manual I would read it. That is how FANTASTIC I think her and her writing is. On a scale from 1-10 I give Runes (Runes Series Book #1) an ENORMOUS 20. Yes, it is off my scale but that is a testament to how amazing I think this book is. If you are a fan of true love, destiny, mythical beings, or are just looking for the best book out there (in my opinion) then I encourage EVERYONE to run (not walk) out and pick yourself up a copy of this book. Help Raine discover Torin's secrets and save the lives of everyone she cares about.
AND NOW FOR AN EXCERPT FROM CHAPTER 1 IN TORIN'S POV:
She frowned, her chin lifting. "He doesn't always come here after school, you know. You could try his house or text him."
Nice comeback. "If I wanted to use modern technology I would, but I'd rather not. Could you do me a favor?"
She shook her head, her frown deepening, her gaze assessing. Once again, I fought the urge to bolt even though I had no idea why. She was just a girl, a mere Mortal, I told myself. The problem was repeating that crap didn't stop the effect she appeared to have on me.
"You're shaking your head again. Did my question confuse you? Am I talking too fast, too slow, or is it me? I've been told my presence tends to, uh, throw people off."
She crossed her arms, her chin shooting up, so she could stare down her nose at me. "No."
The movement drew my attention to her chest. That I found her modest chest fascinating annoyed the Hel out of me.
"No to what?" I asked. I knew I was being rude, probably making a complete ass of myself, but I didn't give a crap. It was self-preservation time.
"No, you didn't confuse me. And no, I won't do you a favor," she said.
Forget this. I plucked wraparound sunglasses from my front pocket, slipped them on, and turned to leave. What in Hel's Mist was wrong with me? Grown men trembled in my presence and begged me to spare their lives. Yet here I was running away from a woman. No, not a woman. A girl on the verge of becoming a woman all because she made me feel something I didn't understand and couldn't explain.
Steeling myself, I turned and gave her my most charming smile. The one that often got me play with women of all ages. "Okay, Raine with an E, what do I have to do to make you play nice?"
Find the next installment of Torin's point of view tomorrow (June 8,2013) at these blogs:
Pimpin' Reads
The Book Rogue
Spare Time Book Blog
Mythical Books
Where to buy Runes:
Amazon Pre-order:
Here
Kindle (US):
Here
Kindle (UK):
Here
Kindle (CA):
Here
Barnes & Nobles:
Here
Smashwords:
Here
GoodReads:
Here
About Ednah:
Ednah is the author of The Guardian Legacy series, a YA fantasy series about children of the fallen angels, who fight demons and protect mankind. AWAKENED, the prequel was released in September 2010 with rave reviews. BETRAYED, book one in the series was released by her new publisher Spencer Hill Press in June 2012 and HUNTED, the third installment, will be released April 2013. She s working on the next book in the series, FORGOTTEN. Ednah also writes New Adult paranormal romance. RUNES is the first book in her new series. She is presently working on book 2, IMMORTALS. Under the pseudonym E. B. Walters, Ednah writes contemporary romance. SLOW BURN, the first contemporary romance with suspense, was released in April 2011. It is the first book in the Fitzgerald family series. Since then she has published four more books in this series. She's presently working on book six. You can visit her on her websites, Facebook, twitter, ya-twitter, Google-plus, and RomanceBlog, YAblog.
Connect with Ednah:
Website:
Here
Goodreads:
Here
Facebook:
Here
Twitter:
Here
LAST BUT CERTAINLY NOT LEAST:
Torin St. James from Runes has made it into the last rounds of the Indie Crush Torney, Starting June 10th we all need to rally and help our boy Torin win. Please grab this button below and put it on your blog, Facebook page, even Tweet about it to help us spread the word. Team Torin St. James ALL THE WAY.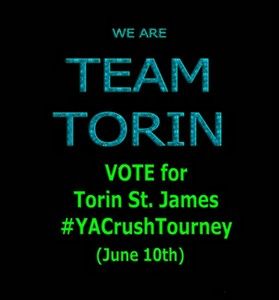 Here are the goodies 5 lucky people could win:
a Rafflecopter giveaway